I've had quite a few people ask me for ideas for doing pre-school at home so I thought, "Why not jump back on the ole' blog and make a post?"  It's been a long break and I have missed blogging so much. Since I've been gone, we've had another baby, sold our house, bought some land and SO MUCH MORE. As always, the blog has taken a back seat to the craziness. But I'm back…at least for today…
Okay, so there are a lot of ideas about preschool. Some say, "Just let them play!" others say, "No, they must know how to read before Kindergarten!" And then there's all sorts of in between. I personally don't think preschool is necessary but I do think it's fun! If you have a kiddo who is not interested then just let them play and don't fret! So far my two oldest kiddos were big fans of both "tot school" and preschool, so we've had a fairly consistent preschool schedule. In my educated opinion, preschool is all about following your child's developmental cues. Some kids want to sit and do activities, while others would rather run around and play. Both are totally okay! Just follow your kids' lead!
Okay, so here we go…
Let's break it up by age…
2 year olds
My favorite thing for this age is Tot School. I first heard this term 7 years ago when Carissa from 1+1+1=1 was posting all about the Tot School activities she was doing with her daughter. I started implementing them with Big Sis and it was SO MUCH FUN!!! I could sum up what Tot School is but Carissa does such a great job that I'm just gonna direct you to her, check it out here. And just for fun here are a few pics of Big Sis when she was just a little tot.
If you want something more "open and go", check out Timberdoodle's Tiny Tots Kit, or their Pre-School Kit. If you're not ready to drop $600 on a full kit, they still have a lot of components that you can pick and choose from. See the next age group for our FAVORITE item from Timberdoodle.
Lastly, if you are comfortable with something less open and go, but more thorough than Tot School. Check out ABC Jesus Loves Me 2 Year curriculum.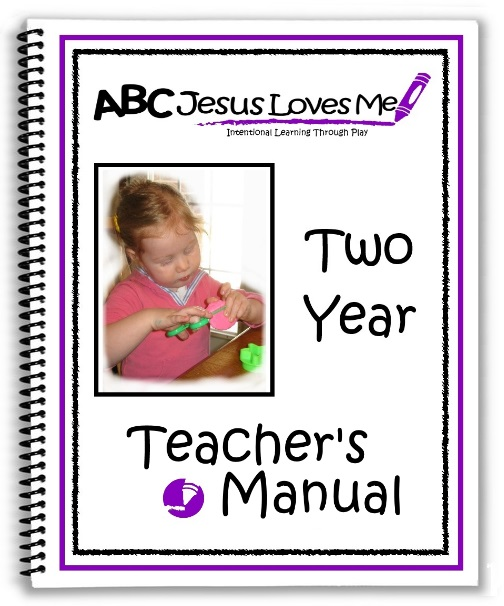 They have free lesson plans and printables, all you need to do is buy supplies and borrow or buy the books recommended. I haven't used it myself but I know a few friends who have and have really enjoyed it.
Pre-School/Pre-K:
Okay, so this is where I've had the most fun. Seeing your kiddos excited about learning is just so great! I still like to keep it fun and light hearted and I never force them to do any work. If they're having an off day, I just say, "Okay, and we're done for the day!" as if I had nothing else planned so that the kiddo doesn't think that they're being punished for not being interested. At this point I just let them learn at their own pace.
If you want a boxed curriculum, again I'll direct you to Timberdoodle.
They have both Preschool and Pre-K curriculums. If you're not sure which kit your kiddo should use check out their Early Education Placement Test. Don't forget, if you have sticker shock for the whole kit, you can still purchase the pieces that you think your kiddos would most enjoy and benefit from.
ABC Jesus Loves Me also has free curriculum for ages 3, 4 and 5 so be sure to check them out if you're looking for a full curriculum with less cost.
After much research and some experience here's what I've pieced together that has worked for us:
This is our favorite item from Timberdoodle. There's book with different math scenarios to go over each week. It starts easy with sorting and goes all the way up to addition, without them really knowing that their adding, heh. This is a perfect mix of play and learning. My preschoolers have loved the lessons and A (2) loves to play with the mat and animals. I make up math stories for her using color and animal identification and she LOVES feeling like she's doing school.
Handwriting Without Tears- My First School Book:
We use HWOT for all handwriting lessons and we really like them. I haven't used any other handwriting curriculum to compare this to but Big Sis (8) has beautiful printing and cursive and E (4.5) did great in this book and is now onto the Kindergarten book. I bought the Teacher's Guide when I used it with Big Sis but I didn't use it much so I don't buy them anymore. The wood pieces are a great manipulative to have but if you're tight on money, space or both, you can definitely use construction paper or cardboard to make these.
All About Reading – Pre-Reading:
I can't emphasize how much I LOVE this program. We have used it up to the end of Level 4. The Pre-Reading is hands on and both girls really loved it. If you look at the samples and think, "My kid can already recognize all of his/her uppercase/lowercase letters" know that there is so much more to it. From the very beginning this program teaches rhyming, syllables, word segmenting, so many skills needed to learn to read well. If your kiddo can recognize all upper and lower case letters, you can use the alphabet sheets as fun craft sheets for review.
Both of my girls have enjoyed the Kumon books. Their favorite is the cutting book but they've also enjoyed the Differentiation and Mazes.
Read Alouds: There are obviously hundreds of amazing books to read aloud to your kiddos. I have found that my kiddos this age have some faves and we often read the same books over and over, which is great for comprehension. If you're just not sure about what books to read check out Sarah Mackenzie's book list which has some great suggestions.
Hands-On Manipulatives:
Our faves: Floof, Mad Mattr, Thinking Putty,  Kinetic Sand, Homemade Playdough (our favorite recipe)
Day and Night: This is a fun and challenging puzzle that both of my girls have enjoyed.
Lastly, some of our favorite Preschool supplies…
Faber Castelle Beeswax Crayons: vibrant color with an easy carrying case to keep them all organized.

Training Scissors: These are great for 2 and up. They cut well, won't cut hair (although thankfully we haven't tested this) and can go from training scissors to regular with a flip of the little spring.
Golf Pencils: These are the perfect size for little hands. You won't need as many as Amazon sells but it's the cheapest option I've found.
I think that about sums it up. If you have any Preschool faves I'd love to hear them.